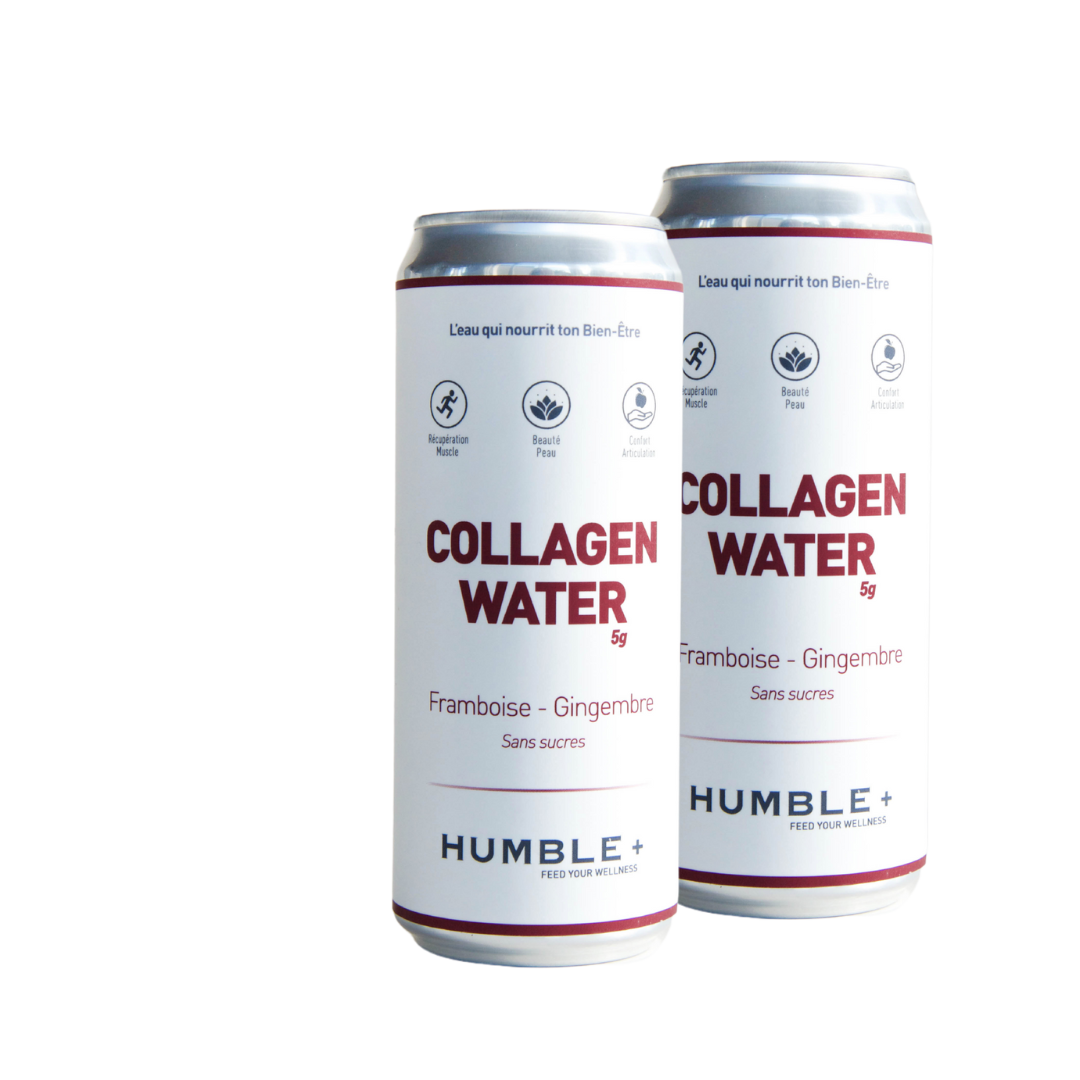 Starter Pack
Look Good, Feel Good!
Discover all the products in the Humble+ range and find the format you prefer :
1 bag of marine collagen
4 cans of collagen drink: mango, raspberry, yuzu, coconut
2 collagen protein bars: almond and hazelnut
This pack contains the equivalent of 50 days of collagen at 5g/day.

Use the code HUMBLE10 and get 10% off your 1st order (until 08/30).
Recette:
Saveur Menthe/Citron -225g
Recommended daily collagen dose from 25 years old
Optimal absorption of collagen: molecular weight 4000 daltons
100% Healthy / Sugar Free
Refreshing and delicious recipes
Improves skin elasticity
Optimizes joint and muscle recovery
Reduce tendon and joint discomfort
Test our recipes!
Use code HUMBLE10 and get 10% off your 1st order (until 09/15).
Skin beauty
5g per day for 8 weeks for an improvement in skin elasticity of +20% and a reduction in wrinkles of -11%.
Preventive
5g per day provides 5g of collagen, the daily dose recommended in clinical studies to nourish joints, ligaments and skin.
Curative

If you already suffer from joint pain, tendinopathy, you can consider increasing your collagen intake to 10g per day
The benefits are visible with recurrent use to act in depth on the joints, tendons and muscles by promoting their regeneration.S
Container
4 infinitely recyclable aluminum cans 33cl.
1 recyclable bag 225g.
2 individual recycled paper bars.
Beverage :
Carbonated water, 5g of Naticol® hydrolyzed marine collagen, natural flavors, concentrated lemon juice.
Bag:
Naticol® patented pure marine collagen
Bars :
Almonds and salt:
Soluble Tapioca Fibre, Almond Puree, Blanched Chopped Almonds, Blanched Almond Protein Powder, Collagen Peptides, Date Syrup, Rice Flour, Sea Salt
Hazelnut
Soluble tapioca fiber, hazelnut puree, toasted chopped hazelnut, blanched almond protein powder, collagen peptides, date syrup, rice flour
Impeccable nutritional table
Beverage :
Calories: 113kj/27Kcal, Fat: 0g, Carbohydrates: 0.1g, Fibre: 0g, Protein: 4.7g, Salt: 0g.
Rod :
Calories: 731jk/176Kcal
Fat: 10g of which saturated: 0.8g, Carbohydrates: 5.8g of which sugars: 3.9g, Fibre: 10g, Protein: 12g, Salt: 0g (0.1g almonds)
Studies recommend consuming at least 5g of collagen per day, the equivalent of one product.
So you can choose one product per day whenever you want.
For joint pain or tendon discomfort, you can take 10g per day either:
2 pods
1 pod + 1 bar or 1 drink
2 bars
2 drinks
1 bar + 1 drink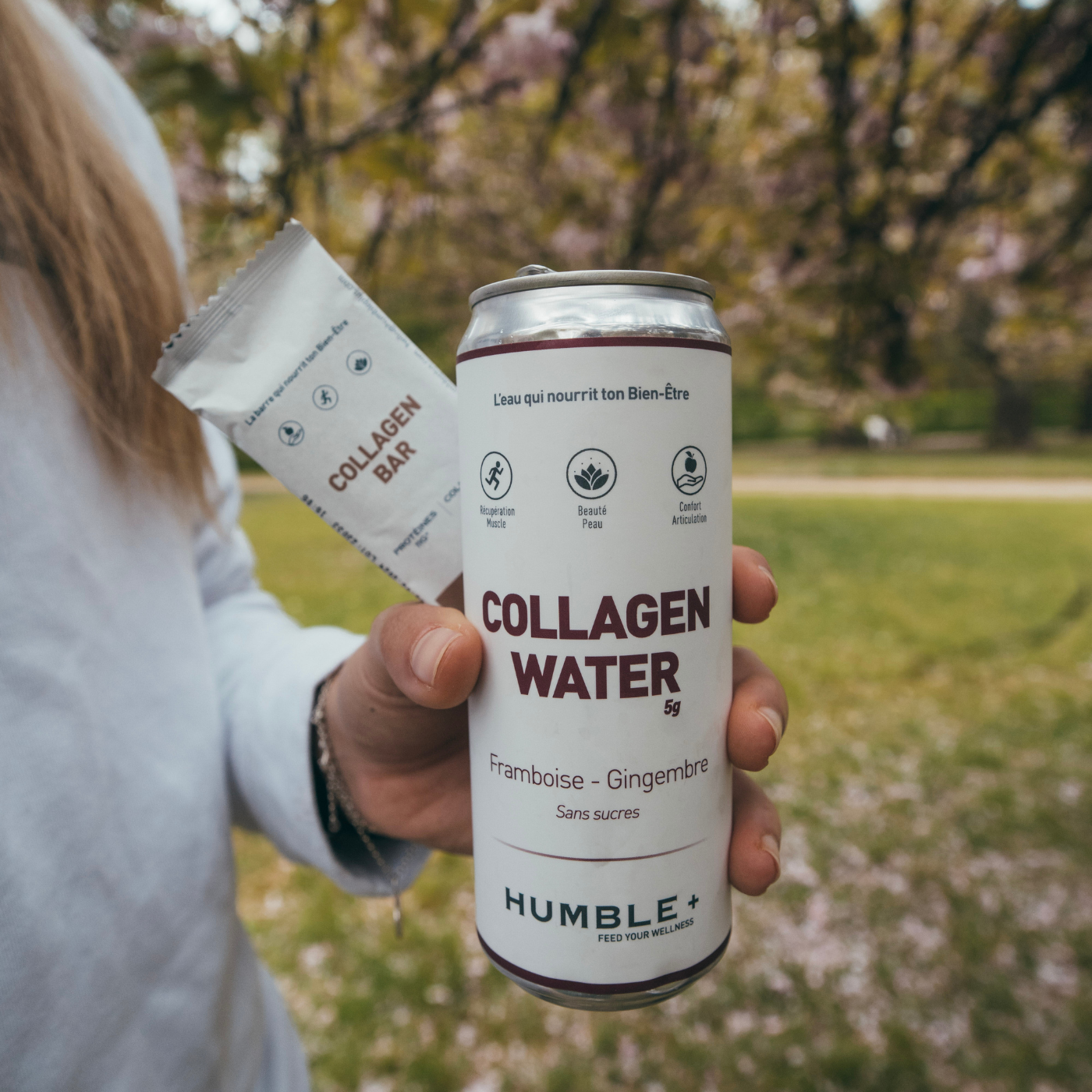 Look Good - Feel GOOD
ALL OUR BENEFITS
Improves tissue elasticity
More elastic skin and fewer wrinkles.
Optimizes muscle recovery
Less aches.
Contributes to healthy joints and ligaments
Better mobility, less discomfort and stronger tendons.
Contributes to healthy bones
Allows better bone density for a young body
What you find inside
Starter Pack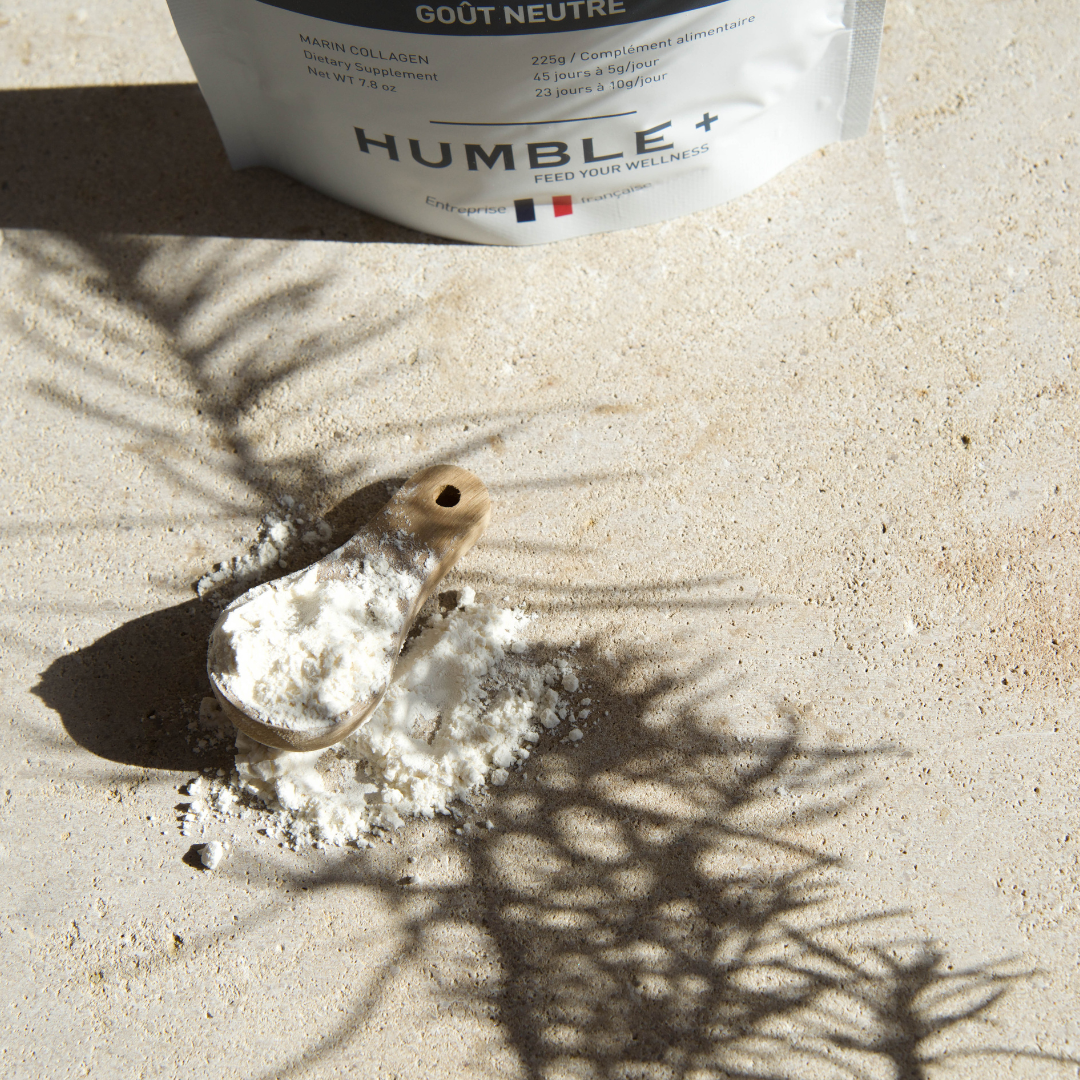 1 bag of marine collagen
The best marine collagen on the market. Patented and made in France with 3 clinical studies.
45 days of cure at 5g or 23 days at 10g.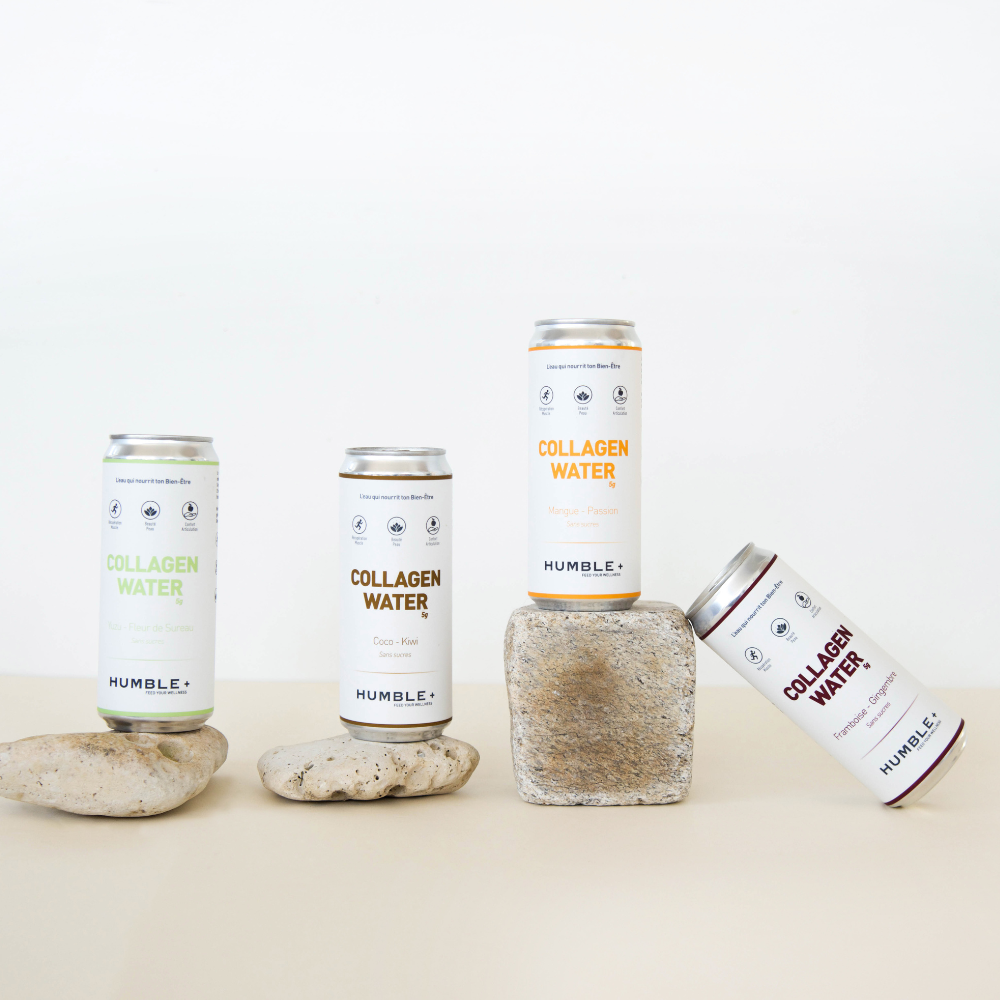 4 cans
5g of marine collagen per can. The same collagen as in powder.
Perfect for introducing you to this format and discovering your favorite recipe among: mango & passion fruit, raspberry & ginger, coconut & kiwi, elderberry & yuzu.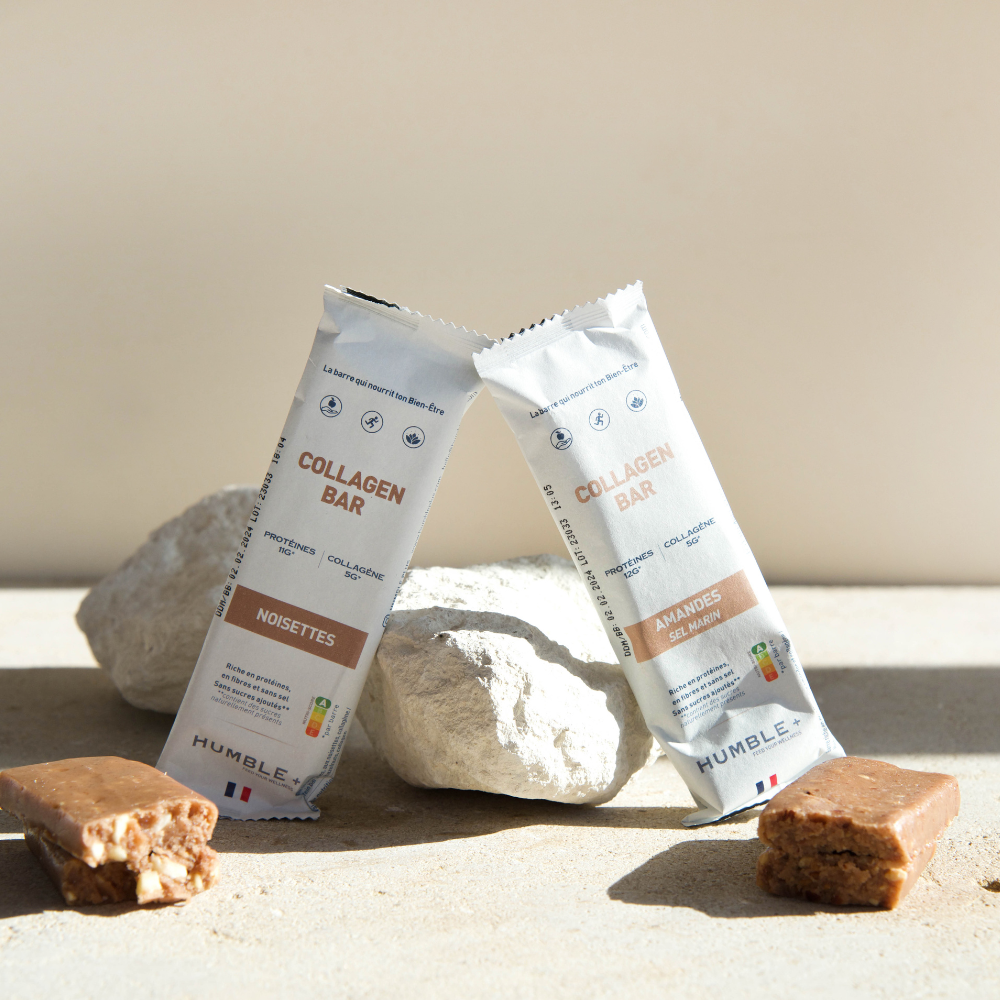 2 collagen protein bars.
12g of protein and 5g of collagen, in a delicious and healthy snack.
The ideal format on the go or for snacking.
Frequently Asked Questions
Our collagen
Collagen is the most abundant protein in the human body. It makes up 80% of the ligaments, cartilages and tissues of the skin.
From the age of 30, the naturally present collagen deteriorates, which impacts our well-being: joint pain, impaired muscle recovery, risk of injury (tendonitis).
This degradation is also responsible for the loss of elasticity of the skin leading to the appearance of wrinkles.
Consuming our products helps regenerate the collagen naturally present in the body in order to improve its sports performance and comfort.
Humble+ is the only brand offering this product quality:
optimal dosage with 5g of marine collagen
100% natural: 3 ingredients
No sugars and no sweeteners
Naticol ® French marine collagen
Made in France
Yes, we directly incorporate Naticol ® marine collagen powder into a ready-to-eat can.
It has proven perfect assimilation by the body thanks to its purity and finesse.
It does not undergo any transformation during canning. The collagen level found in the can after analysis is the same as originally.
The improvement in muscle recovery appears very quickly thanks to proteins. The visible results for the skin and joints really arrive from 4 weeks with an optimal result in 8 weeks.
Collagen is a fundamental treatment, we recommend that you adopt a daily routine.
Our collagen has been shown in clinical studies to benefit people with joint pain and osteoarthritis with improved mobility and reduced discomfort.
Clinical studies have shown that 5g of collagen per day for 8 weeks improved skin elasticity by +20% and reduced wrinkles by -11%.
For the beauty of the skin
Remember to maintain good hydration and protect it from the sun.
For joints and tendons
Collagen alone will not work miracles.
We recommend that you adopt an active lifestyle to mobilize your joints and tendons in addition to a balanced diet.
A physiotherapist can help you find exercises to support you in your daily life
Our marine collagen comes from fish raised in Europe and is made in France.
It bears the "Friends of the Sea" certification, a pledge of a commitment to protect the seabed against overfishing.
Our bovine collagen comes from European herds and was manufactured in France.
Collagen is a fundamental treatment. We advise you to adopt a daily routine throughout the year.
Collagen in powder, bar or drink goes through the same process as all foods.
The body will break down the collagen protein into amino acids and use them where needed.
Collagen being present at 85% in tendons, joints and skin, it is mainly here that it will be useful.
Marine collagen (drink and powder) comes from fish, while bovine collagen (bar) comes from the connective tissues of cattle. Both types of collagen have similar benefits.
There are different types of collagen in the body, and they have specific roles in different tissues.
We chose type I collagen because it is the most abundant and is found mainly in skin, bones, ligaments and tendons.
Type II collagen is more present in cartilage.
When you consume collagen, you don't specifically choose where it will be used. Once absorbed, collagen is broken down into the constituent amino acids which are then used by the body as needed.
Yes, collagen cannot cross the skin barrier.
In drink or bar consumption, it nourishes your body from the inside.
Studies recommend consuming at least 5g of collagen per day, the equivalent of a can.
You can therefore consume a can a day at any time of the day.
It is perfect for quenching your thirst after sport.
The pack
If we are convinced of the benefits of marine collagen powder, it is not always the mode of consumption adapted to everyone.
We have therefore designed a pack to allow you to discover the whole range and to feel its benefits, regardless of the mode of consumption.
Beverage
We incorporate 5g of collagen, marine Naticol® with sparkling water, natural fruit flavors and lemon zest.
It is exactly the same patented marine collagen as in the sachet. Simply more practical and portable.
It is made in France.
Ditto for the bar: we mix 5g of bovine collagen with vegetable protein, real hazelnuts or almonds and dates for the binder.
It is made in France.
Delivery and relay points
We ship orders 24 hours after your order. The delivery time can vary between 24 to 96 hours.
Deliveries are provided by DPD at a relay point and at home.
You can find the relay point closest to you here .
The choice of the relay point is made after payment.
France
Delivery from €3.50 in relay point - Free from €59 in France
Selection of the Relay Point after payment. Find your relay point here.
Delivery via DPD Predict at home with a 3 hour slot.
Europe
Delivery via DHL between 8€ and 12€ depending on the weight of the package.
See full terms and return here .
I was not sure to start on a format other than powder. This pack allowed me to discover the nuggets that are bars and drinks.