Regular price
Sale price
34,00€
Unit price
per
Sale
Sold out
Drinkable Collagen - Marine Collagen Naticol® 
Finely sparkling water, yuzu flavor (Japanese lemon), without sugars containing 5g of marine collagen Naticol®.
Why should you adopt it?
Delivery 2 to 4 days

France

Delivery via DPD at home. Free delivery from 58€ in metropolitan France.

Europe

Delivery via DHL between 8€ and 12€ depending on the weight of the package.

See all conditions and return here.
View full details
Informations
Benefits and effectiveness

Sport

Muscle and joint recovery
Increased rate of joint, tendon and muscle regeneration after exercise 
Anti-inflammatory action in the joints and tendons reducing post-exercise pain

Welfare

Improved joint comfort for people suffering from daily pain
Contributes to the normal production of collagen in the joints
Contributes to normal bones

Beauty

Elasticity of skin and tissues 
Reduction of wrinkles
Hydration 
Instructions for use

One can a day provides 5g of collagen, the recommended dose in clinical studies.

The benefits are visible with recurrent use to act in depth on the joints, tendons and muscles by promoting their regeneration. 
Assimilation by the body

Collagen is type I, hydrolyzed to reduce the size of the proteins for better absorption, digestion, and efficacy on tendons, joints, and skin. The collagen peptides are therefore digested as they are, without being broken down during digestion.

This process improves the antioxidant effects, promotes the assimilation of amino acids through the intestinal barrier, and accelerates the assimilation of collagen peptides.
Ingredients and nutrition

Can

Recyclable infinitely 33cl aluminum can.

4 natural ingredients.

Sparkling water, 5g of Naticol® hydrolyzed marine collagen, natural flavors, concentrated lemon juice.

Impeccable nutritional table.

Calories: 113kj/27Kcal, Fat: 0g, Carbohydrates: 0.1g, Fiber: 0g, Protein: 4.7g, Salt: 0g.
Taste and flavor

All of our recipes are sparkling and sugar-free. Naturally flavored, they are delicious without any unpleasant smell or taste of collagen for a moment of pleasure.

Raspberry & Ginger: fruity and spicy

Mango & Passion fruit: indulgent and exotic

Yuzu & Elderflower: floral and delicate
Scientific references

Duteil L., Queille-Roussel C., Maubert Y., Esdaile J., Bruno-Bonnet C., Lacour J-P. (2016).

Specific natural bioactive type 1 collagen peptides oral intake reverse skin aging signs in mature women. J. aging Res. clin. Practice; 5(2):84- 92.

Aleman, A. et al., 2011, Antioxidant activity of several marine skin gelatins. LWT - Food Science and Technology, 44(2) : 407-413.
Iwai K, et al., 2005, Identification of food-derived collagen peptides in human blood after oral ingestion of gelatin hydrolysates. J Agric Food Chem., 53(16):6531-6.
P&S market Research, Global sports nutrition market, 2016.
Veldhorst, M. A. et al., 2009, A breakfast with alpha-lactalbumin, gelatin, or gelatin TRP lowers energy intake at lunch compared with a breakfast with casein, soy, whey, or whey-GMP. Clinical Nutrition, 28(2), 147-155.
FAQ
Why should i take collagen ?

Collagen is the most abundant protein in the human body. It makes up 80% of ligaments, cartilage, and skin tissue.

From the age of 30, the naturally occurring collagen degrades, which impacts our well-being: joint pain, impaired muscle recovery, risk of injury (tendinitis).

This degradation is also responsible for the loss of skin elasticity, leading to the appearance of wrinkles.

Consuming our products allows the naturally occurring collagen in the body to be regenerated, improving athletic performance and comfort.
Why take collagen in a drink?

We have directly incorporated marine collagen Naticol® which is a dietary supplement in powder form in a ready-to-drink can.

Why?

We used to consume collagen in powder form, but we found that the experience was not pleasant:

- Bad taste

- Mixing problems

- Frequent forgetfulness

Therefore, we solved all these problems with a sparkling water

+ Delicious

+ Portable

+ Already dosed with 5g of French marine collagen with proven benefits.
What makes collagen unique?

What makes collagen unique is its high composition of amino acids such as glycine, proline, and hydroxyproline.

These amino acids are sought after and consumed for their benefits on physical performance.

Collagen peptides are often absent from our diets, which is why supplementation can be beneficial for a healthy, active lifestyle or athletic activity.
Préventif versus curatif : quelle quantité ?

Le collagène favorise la régénération du tissu conjonctif, ce qui peut être bénéfique pour maintenir la mobilité et la flexibilité de vos articulations et de la peau.

Prévention : 5g de collagène par jour :


De nombreuses recherches suggèrent qu'une consommation quotidienne de 5g peut apporter des bienfaits significatifs.

En fournissant à votre corps une dose régulière de collagène, vous pouvez soutenir la santé de votre peau et prévenir l'apparition de rides, de ridules et de la perte d'élasticité.

En consommant 5g de collagène par jour, vous pouvez soutenir la santé de vos articulations et réduire le risque de douleurs et de gênes futurs.

L'action curative : 10g de collagène par jour


Si vous souffrez déjà de douleurs articulaires, de tendinopathies ou d'autres problèmes liés à la mobilité, vous pouvez envisager d'augmenter votre consommation de collagène à 10g par jour. Des études ont suggéré que des doses plus élevées de collagène peuvent avoir des effets curatifs sur les problèmes articulaires et les douleurs chroniques.
How much can I take?

One can a day provides 5g of collagen, the recommended dose in clinical studies.

The benefits are visible with recurrent use to act in depth on the joints, tendons and muscles by promoting their regeneration. 
Marine or bovine collagen?

Les deux sont efficaces. L'important est de vérifier la provenance de chacun.

Nous recommandons de choisir du collagène français pour s'assurer une traçabilité et une pureté sans égale.

Pour nos eaux, nous avons sélectionné le collagène marin Naticol®, fabricant français pour sa pureté, les études cliniques réalisées et surtout pour son goût assez neutre afin de vous offrir la meilleure boisson possible.

On répond à toutes les questions sur bovin versus marin ici!
Is it as effective as collagen powder?

Yes, we use marine collagen powder Naticol® in our drinks. It has proven perfect assimilation by the body thanks to its purity and finesse.

It does not undergo any transformation during canning. Analyzes carried out by an independent laboratory confirm that the level of collagen found in the can is the same as originally.
When to consume it?

Perfect after sport to hydrate and maximize recovery, you can consume it at any time of the day.

Our Humble+ collagen waters are well-being drinks to drink whenever you want.
Storage

Our drinks can be stored at room temperature, they have a shelf life of 15 months after production. Best fresh, it can be taken everywhere: at the office, in your sports bag or on a trip.
Any side effects?

There are no known side effects for collagen.
Shipping

Delivery is carried out by DPD within 48 hours after ordering.

Confirmation, tracking, and rescheduling are possible directly on the platform.

France : Free shipping for orders over 59 euros, 5 euros below. UK : 15 euros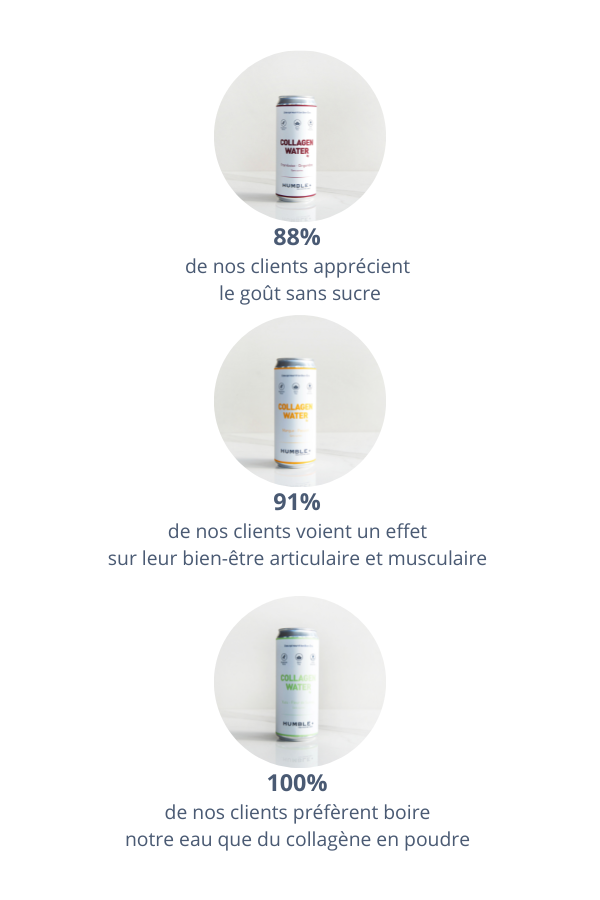 Why you should drink our Collagen Water?
If you have ever consumed collagen, you know that the taste can be unpleasant.
To enable you to consume more collagen, we have developed a unique product: tasty, healthy, and functional.
✅ 5g of French Naticol marine collagen with clinically proven effects
✅ Clean label: 4 ingredients
✅ 100% natural
✅ Delicious and sugar-free
🇫🇷 Made in France